MAMA'S SUNDAY SUGO
Yield approximately 8 quarts
Ingredients
| | |
| --- | --- |
| 1 cup | olive oil |
| 2 medium | yellow onions (chopped fine) |
| 10 medium | cloves garlic (chopped fine) |
| 20 large | basil leaves (chopped fine) |
| 5-6 ounce cans | tomato paste |
| 2-28 ounce cans | crushed tomatoes |
| 1-28 ounce can | tomato puree |
| 15 cups | water |
| 2 tablespoons | ground black pepper |
| 5 | green onions (chopped fine) |
| 1 cup | vegetable oil |
| 2 pounds | pork butt, picnic, or shoulder (bone in) |
| 2 pounds | chuck roast (bone in) |
| 2 tablespoons | salt |
| 10 | whole basil leaves |
Method
In a 12 quart pot place the olive oil, onion, garlic, and chopped basil over medium heat and cook, stirring occasionally, for 8 -10 minutes, or until onions are soft and translucent.

Add tomato paste and cook for 5 minutes, stirring frequently to keep paste from burning. Add crushed tomato and puree and mix thoroughly to blend with paste. Rinse the tomato cans out with some of the water and add all of the water to the pot. Stir sauce well to mix in water and raise flame to bring sauce to a boil.
NOTE: When sauce comes to a boil let cook for a few minutes and then if desiring remove some of the sauce to be used for baked eggplant or other meatless dishes.

While sauce is coming to a boil prepare meat. Trim as much of the fat from around the outside of the meat as possible. Heat the vegetable oil in a large skillet over a medium high flame and when the oil is hot add the meat one at a time and brown well on all sides. Transfer the meat to the sauce, which by this time should be boiling, and reduce the sauce to a simmer. Add the black pepper and the green onions, cover the pot and simmer the sauce for 3 hours stirring occasionally so sauce does not burn. In the last hour of cooking the meatballs should be added and the top of the pot should be slightly left askew. When the sauce is done stir in the salt, add the remaining basil leaves to the top of the sauce and cover tightly. Let sauce sit for a few minutes and then remove the lid and stir in the basil that was sitting on top of the sauce. Cool sauce if not using immediately and store in the refrigerator in a plastic container with a tight-fitting lid.
---
MAMMA'S  PORK POT ROAST
Serves 6 to 8
Ingredients
| | |
| --- | --- |
| one 3-4 pound | bone-in pork shoulder, trimmed but leaving a little of the fat cap |
| 1 head | garlic, peeled |
| 1 bunch | Italian parsley |
| to taste | kosher salt and freshly ground black pepper |
| 2 | carrots, peeled and coarsely chopped celery ribs, coarsely chopped |
| 2 | yellow onions, peeled and coarsely chopped |
| 2 medium | boiling water |
Method
Preheat the oven to 500°F.

Cut the garlic cloves into 2-3 large pieces. Pierce meat all over with a paring knife

.

Insert a piece of garlic and a few parsley leaves into the pierce marks.

Season meat very well with salt and pepper, rubbing seasoning into the meat evenly. Let seasoned meat sit for 30 minutes to 1 hour.

Place the carrot

,

celery, onion and any remaining garlic and parsley in the bottom of a roasting pan.  Place the roast on top of the vegetables and place pan in the oven.

Brown roast on both sides very well, about an hour to an hour and a half

,

turning the roast over mid-way through the initial browning time. When the meat is well browned, add enough boiling water to the pan to come a little more than half way up the roast. Reduce the oven temperature to 350° and roast for 3-4 hours, turning the meat every hour until tender and the meat pulls away from the bone.

When done remove the roast from the oven. Remove the roast to another pan and strain the braising liquid through a fine strainer. Place roast back in the roasting and pour strained broth over roast.  Let roast cool to room temperature, cover and refrigerate overnight.  

This roast is best

if

made the day before.

The next day, remove the roast from the pan and slice, cold, and arrange in a casserole. Remove the hardened fat from the top of the broth and measure the fat. Pour off the stock and measure. For each cup of stock, you need 2 tablespoons of all-purpose flour and 2 tablespoons of fat. You will probably need 8 cups of stock and 1 cup each of flour and fat. If you are in need of additional fat, use butter. If you need more stock you can add homemade or boxed chicken or beef broth. Heat the stock in a stock pot.

Place the roasting pan over a medium flame on the stove. Add the fat and melt. Add the flour and with a whisk stir, scraping up any browned bits on the bottom of the pan. Cook the flour and fat together for a minute, then add the hot stock all at once. Bring gravy to a boil, whisking constantly. Reduce flame and let gravy simmer until thick and has lost its floury taste. Adjust salt and pepper. Strain gravy. If you are going to warm the roast immediately, pour gravy over roast, cover pan with foil and place in a 325° oven until warm through, about 45 minutes. If you will be warming the roast later, cool gravy completely before pouring over cold roast. Place roast covered, in the refrigerator until ready to warm.
---
MEATBALLS
Yields approximately 160 – 3 ounce portions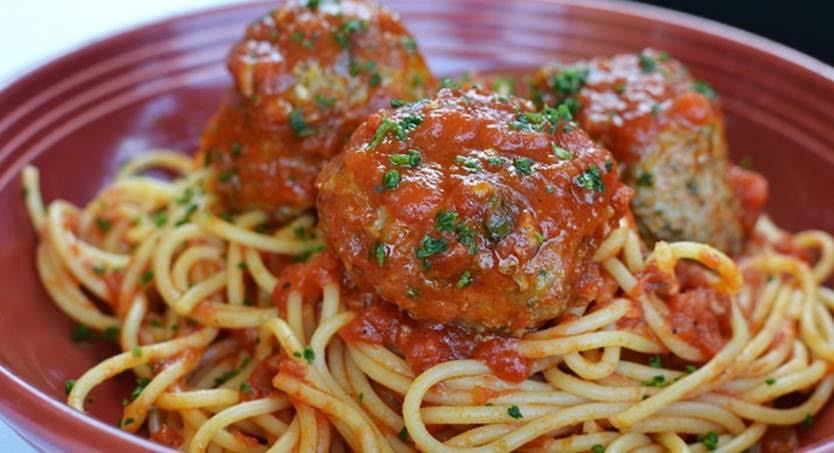 (Image courtesy of carrabbas.com)
Ingredients
4 weight ounces

yellow onions, chopped very fine   

4 weight ounces

green onions, chopped very fine

½

weight ounce

garlic cloves chopped very fine

1 weight ounce

Italian parsley leaves, chopped fine

1 weight ounce

fresh basil leaves, chopped fine

2

whole eggs

4 weight ounces

unseasoned breadcrumbs

1 cup

water

½ pound

grated Romano

weight ounce

kosher salt

¼ weight ounce

freshly ground pepper

2 ½  pounds

ground beef

2 ½  pounds

ground pork
Method
Place onions, green onions, garlic, parsley, and basil in a bowl large enough to hold all the ingredients.
To the onion mixture add the rest of the ingredients except the meat. Mix ingredients well blending all the spices thoroughly.
Add the meat and mix with the seasonings thoroughly.
Portion into 3 ounces and using warm water to keep hands moist roll into smooth balls. Fry balls in 360° olive oil or vegetable oil until browned well.
When meatballs are all browned, add to the sago the last hour of simmering.
---
GRANDMA MANDOLA'S CHOCOLATE
"BIANCA MANGIARE"
Serves 4-6
Ingredients
1

quart

milk

½cup

cornstarch

¼

cup

+

2 tablespoons

cocoa powder

¾

cup

+

2 tablespoons

sugar

garnish:

cinnamon

Semi – sweet chocolate bar
Method
In the top of a double boiler mix cornstarch, cocoa and sugar. With a whisk gradually stir in milk. Place top of double boiler over simmering water and stir mixture constantly with a wooden spoon until pudding is thick.

Pour pudding into a shallow platter and let cool 5 minutes. Sprinkle lightly with cinnamon and grate chocolate, coarsely, over pudding. Chill pudding a couple of hours before serving.
---
FACCIA di VECCHIA
Yields one half size sheet pan
Ingredients
1½  pounds

pizza dough

8 tablespoons

extra virgin olive oil

4 weight ounces

grated Romano cheese

*8

-12

sardines, de – boned cut into small pieces

10

anchovies, cut into small pieces

1 cup

canned crushed tomato (crushed fine by hand)

4

weight ounces

Romano, cut into ¼-inch chunks

½cup

sliced green onions

1

½

teaspoons

Sicilian dry oregano

½

teaspoon

kosher salt

1/a teaspoon

freshly ground black pepper

¼

teaspoon

red pepper flakes
Method
Pre-heat oven to 350°

F

.

Brush a half size sheet pan

with

2 tablespoons of the olive oil. Stretch and press dough into the sheet pan.  Let dough rise in pan 30 minutes to 1  hour.

Brush

dou

gh evenly

with 4 more tablespoons of

extra virgin

olive  oil.

Sprinkle 2 ounces of Romano

cheese eve

nl

y

over dough. Distribute chunks of Romano cheese evenly over pizza.

Break

sardines

into small pieces and distribute evenly over  dough.

Cut

anchovies into small pieces and distribute evenly over  dough.

With fingers

gently

push ingredients into dough.

Distribute crushed

tomatoes evenly

over pizza.

Distribute green onions evenly over pizza.


Season with oregano,

salt,

pepper, and red pepper.

Sprinkle

the

remaining 2 ounces Romano cheese

evenly

over  

pizza.

Drizzle remaining

2

tablespoons olive oil over

pizza

just before  baking.

Bake in oven

for

approximately 20-25 minutes, rotating pizza, so

that

it evenly browns. Let pizza cool 5 minutes then cut into squares.
*
Depending on size.
*Use oil packed – bone in sardines.
---
CANNOLI ALLA SICILIANA
Yield about 6 Cannoli
Ingredients (Pastry)
2 cups

all-purpose flour

1 teaspoon

cinnamon

1

egg

1 tablespoon

lard or Crisco

1 tablespoon

sugar

½

teaspoon

vanilla

½

cup

sweet red wine or sweet Marsala
Method
Sift the flour

,

sugar and cinnamon into a bowl. Cut in the lard or Crisco and rub into the flour mixture

.

Add eggs and vanilla. Add enough wine to make a firm dough. Do not add all of the wine at one time; all of the wine may not be necessary. Knead dough until firm and elastic.

Let rest 30 minutes in refrigerator. Roll dough paper thin and cut into equal squares. Place a metal tube diagonally on each square and bring the two comers over to meet in the middle. Press gently to seal.

Fry

pastries in hot oil one or two at a time

,

un

t

il golden.

Remove

and drain in paper towels. As soon as tubes are cool enough to handle

,

take them gently out of the pastry.

Ingredients (Filling)
1

pound

ricotta

4½

wt.oz.

confectioner's sugar

½ teaspoon  

vanilla

½ teaspoon

cinnamon

1 ounce

diced candied orange peel

1 ounce

mini chocolate chips

chopped pistachios

Method
Let ricotta

drain

in a sieve for at least 2

hours.

Beat ricotta and sugar until smooth.

Add

remaining ingredients

,

except pistachios, and blend well. Pipe into pastry

shells,

p

re

ss chopped pistachios onto the ends

,

place on

a

plate and sprinkle

with

confectioner's  

sugar

.
---
BRUCIULUNU
Ingredients
1   large

London broil, butterflied & pounded ¼" thick

¼cup

extra virgin olive oil

½

small yellow onion

½

small red bell pepper¼" dice

½

small green bell pepper ¼" dice

2 cloves

garlic chopped fine

2 cups

plain homemade bread crumbs

¼cup  

grated Pecorino Romano cheese

30  leaves

Italian Parsley chopped fine

10

basil leaves chopped medium

4

green onion chopped fine

3slices (¼ inch thick) to taste

provolone cheese, diced

1

kosher salt & fresh ground black pepper

2

hardboiled eggs

8-10

thin

slices

salami

For baking

vegetable oil or pure olive oil

1

small

yellow onion, peeled and coarsely chopped

1  

small

carrot, peeled and coarsely chopped

1

celery stalk, coarsely chopped

2 cloves

garlic, peeled and crushed

handful

parsley leaves and stems
Pre-heat oven to 350° F.

In

a

medium

sauté'

pan heat¼ cup

of

the

olive oil over

medium

heat.  Add the yellow onion

and bell peppers

and cook for about 5

minutes.   Add the

garlic

and

cook 2

more minutes.   Remove

from stove and

let cool.

In

a medium size mixing

bowl

mix

all breadcrumbs

with the

Romano, parsley,

basil green onion,

and

provolone.

Season

with salt and pepper. Add

the

raw egg and

mix.

Next add

the

remaining olive

oil

to

moisten.

If

necessary

you

may have to

add a

little

water to

the breadcrumb

mixture to

help moisten. Stuffing

should

be

thoroughly

moistened but not too

wet.

Lay steak out on a work surface.

Season

with salt and

pepper

and drizzle with a

little

olive

oil. Lay the

slices of salami over the steak. Spread

bread

stuffing

across

entire steak about

1/a

inch

thick leaving

a

1 inch

margin around

the

entire edge of the steak.

Slice the hardboiled eggs in 1/a inch slices and place atop stuffing. Roll up the round steak like a jelly roll tucking in the sides.  Tie and secure.
In a cast iron or other skillet that can go into the oven and is large enough to hold the Bruciulunu, heat enough olive oil to just cover the bottom of the pan over a medium heat. Add the Bruciulunu and brown on all sides.

Place the onion, carrot, celery, garlic and parsley in the pan. Add enough boiling water to the skillet to come up about¼ inch.  Cover skillet with a lid or foil and place in a 350° oven for 1½ -2 hours basting with the juices every half hour.  When done remove pan   from oven and let rest for 15 minutes. Remove Bruciulunu from pan onto a cutting board and remove string.  Slice Bruciulunu in slices ½ inch thick and arrange on a serving plate