I opened my first restaurant on 1975. My partner, Nash D'Amico and I borrowed $2500.00 dollars each from our parents and opened Damian's Fine Italian Food in Huntsville Texas where we had attended college at Sam Houston State University.
Our landlord, Beau Crews owned an apartment complex where we lived and had heard we were looking for a location for a restaurant. He owned a 2 story red brick building on old Interstate 45 next door to the campus. This old building was formerly the Sam Houston hotel. After closing, Crews bought the property and rented the up stairs and half of the down stairs rooms to coeds. What remained was the old café for the hotel.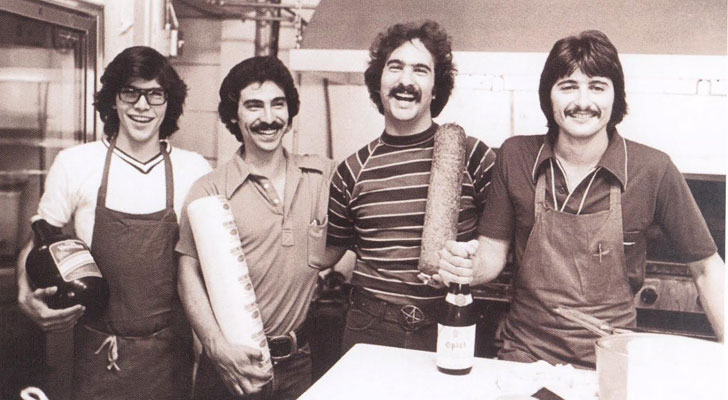 We leased the Café which already had some kitchen equipment tables and chairs. With the money we borrowed from our parents, we bought some additional kitchen equipment we needed and paint, curtains etc.
About 2 weeks before opening, my Mamma, Grace, came to Huntsville and taught us her recipes. Meatballs, Eggplant Parmigiana, Sunday Sugo (meat sauce) and many other dishes I `still use today.
We opened Damian's on June 16, 1975 and we were a hit. We were the first restaurant in Huntsville to open a bottle of wine table side.
After 2 years of operation and learning the basics of the restaurant business, we decided to move up to the "Big Leagues" and moved back home to Houston to open our second restaurant D'Amico's in a new strip center on Westheimer Rd. between Kirby Drive and Sheperd Drive.
D'Amico's hit the ground running. We hired a New York chef and together with his recipes and my mom's we had a winning combination.
Around 1980 Nash and I parted ways and I struck out on my own. To keep food on the table while I looked for a location for my new venture, I went to work in the kitchen at Nino's, owned by my brothers Vincent and Tony. While there, I honed my kitchen skills while reading every Italian cook book I could find. Trying recipes that were new to me.
Around January 1983, I found an old abandoned building on Smith Street in mid downtown. I formed a limited partnership with some family. I remodeled the building, adding a kitchen. Bought as much used equipment as I could and by the following January of 1984 I opened Damian's Cucina Italiana.
Damian's was modeled after the Roman Trattorie where I had eaten during my visits. The food was a mixture of Sicilian, Roman and Tuscan. The wait staff wore white sport jackets, black slacks and black ties. Classic Italian.
Business started slowly. Lunch was good because of the downtown business district. Then the people who ate lunch at Damian's started bringing their families to dinner. Business increased both lunch and dinner. Added to that the performing arts downtown produced a large part of business both before a performance and after.
Early in 1985, I took a trip to NYC to scope out the restaurant scene. I also visited the Italian deli/grocery stores, bakery shops and Caffes. One night after a Broadway play, I was walking down 6th Ave. When I saw people spilling out on to the sidewalk. It was a small pizzeria named Mezzaluna. It was a very small space which seated maybe 80. Upon entering, there was a wine bar with a wood burning pizza oven facing the entrance. It was love at first sight. The menu consisted of Pizza, Pasta and Antipasti/Salads. The food was great, the joint was jumpin'!!
Inspired by what I had seen, I worked on a menu on the plane ride home. It was similar to Mezzaluna except I added a wood burning grill. The grill was for steaks, fish and chicken. I figured I had to cover my bases with carnivorous Texans.
I next turned my attention to management. I had just opened Damian's a year previous. I could not handle two restaurants. I needed a good manager or better yet partner. My first choice was my nephew Johnny Carrabba. Johnny, at the time was managing my brother's seafood restaurant. I went to see him and told him of my idea. He told me he would think about it. By the time I arrived home (30 minutes), he called and said he was on board.
There was a building on Kirby drive that I had wanted for Damian's but at the time it was too expensive to purchase. Checkin back later the price had fallen dramatically. Johnny and I quickly came up with a business plan, went to several banks but were turned down. Two customers of mine at Damian's were brothers and they owned the bank. I told them of my plight. They directed me to their senior loan officer. We got the loan, bought the building and remodeled.
We opened Carrabba's December 26th 1986. It was slow for two weeks. One night I get a call from the hostess at Carrabba's. she told me Johnny asked her to call me and do a drive by. The place was packed. People were everywhere outside waiting for a table.
In 1988 we opened our second location on Woodway @ Voss, in the Memorial area. Big hit!
In 1993, we were approached by Outback Steakhouse to partner with them to build 10 Carrabba's in Florida and Texas. If successful the concept would carry on. After 10 restaurants Chris Sullivan, founder and CEO of Outback, said he would expand Carrabba's. We came to an agreement going forward and the rest they say is history. 240 stores and counting.